Thursday, September 26th, 9pm EST
Article discussed: An Immunohistochemical Panel to Differentiate Metastatic Breast Carcinoma to Skin From Primary Sweat Gland Carcinomas With a Review of the Literature
Authors: Marian Rollins-Raval, MD, MPH; Mamatha Chivukula, MD; George C. Tseng, ScD; Drazen Jukic, MD, PhD; David J. Dabbs, MD
Open access at: https://doi.org/10.5858/2009-0445-OAR2
Summary prepared by: Abdullah Alswied, MBBS, MRes, PhD (@AlswiedPath)
Journal Club Summary:
Cutaneous metastases of breast cancer (CMBCs) is observed in 25% of patients diagnosed with breast carcinoma and can be difficult to distinguish from sweat gland carcinomas (SGCs). Panel of eight IHC stains were used in four group of cases; ductal CMBCs (12 cases), SGCs (12 cases), benign sweat gland neoplasms (2 cases) and breast cancer cases (2 cases).
Discussion:
The authors first started by performing a literature review on previous studies and have concluded the following:
ER, PR, CK7, and CK20 stains are not useful markers to differentiate the two entities.
GCDFP-15, carcinoembryonic antigen, EGFR, CK5/6, podoplanin, and p63 are potential candidates and three stains from this list were further investigated in the current study (GCDFP-15, CK5/6, and p63)
CK14, CK17, AR, mammaglobin, and PAX5 were investigated in this study in addition to the three described above.
Out of the 8 stains that were investigated, only P63 and CK5 demonstrated sustained potential in distinguishing CMBC from SGC.
combining mammaglobin, p63 and CK5 with CK14, and CK17 consistently differentiates CMBC from SGC in the cases reviewed in this study.
Limitations of the study included number of cases reviewed which is understandable given the rarity of these neoplasms. Moreover, combined with the low number of cases, heterogeneity among the groups of tumors examined and subgroups classification was another challenge of the study limiting the examination of certain subgroups (one case of basal-phenotype CMBC).
Conclusion:
The authors recommended a panel of five IHC composed of mammaglobin, p63, and 3 basal cytokeratins to be able to differentiate between CMBCs and SGCs neoplasms (See the table below).
Image from Archives of Pathology and Laboratory Medicine (open access):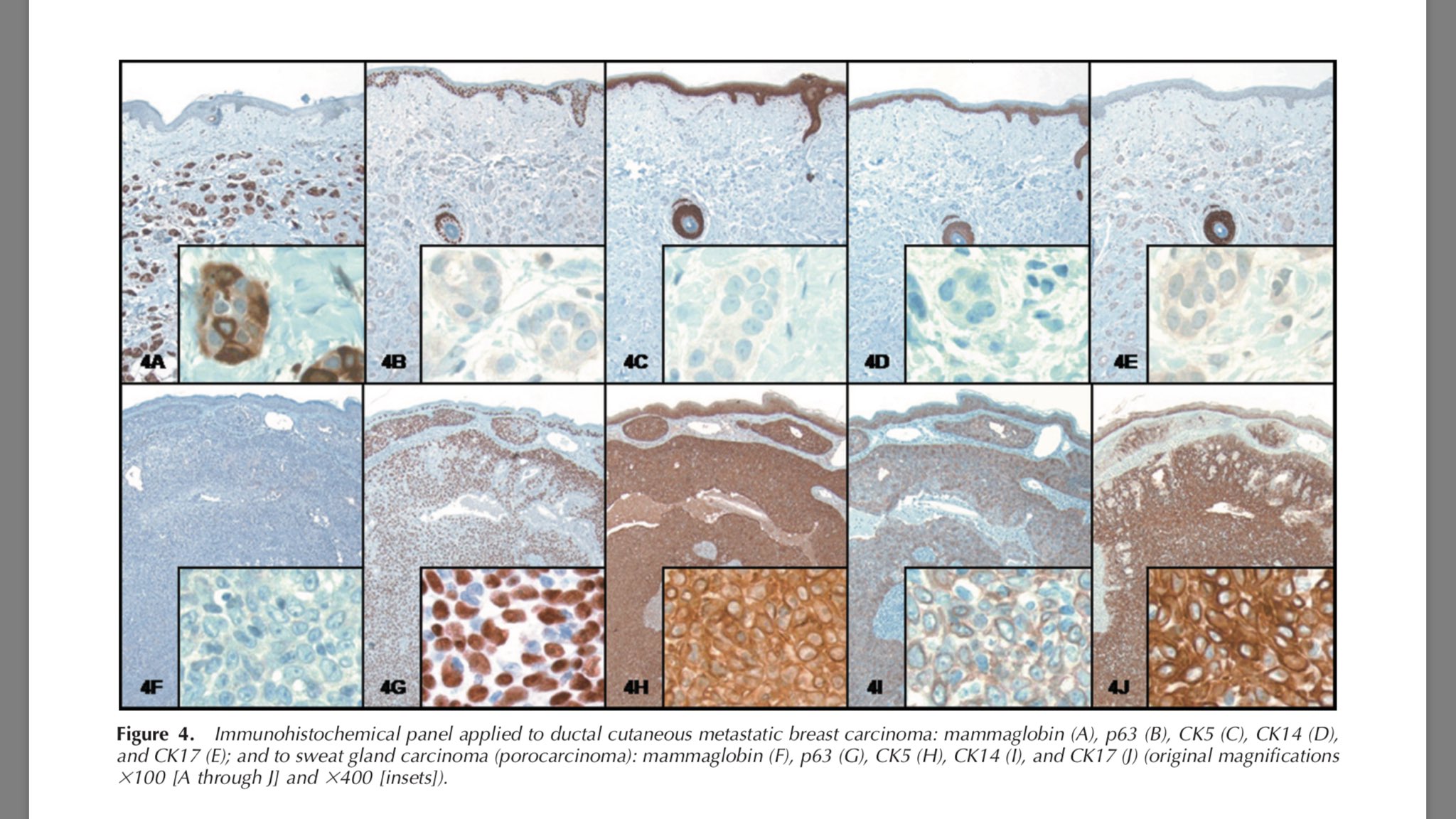 P63 was expressed in 90.9% of SGCs, whereas it was expressed im 8.3% of CMBCs cases.
Basal cytokeratins was expressed in 90.9% of SGCs and up to 16.7 in CMBCs (0% CK14 to 16.7% of cases expressing CK5 and CK17.
Mammaglobin was expressed in 16% of SGCs and in 66.7% of CMBC.
In sum:
Skin primary sweat gland carcinoma generally mammoglobin-, p63+, CK5+, CK14+, CK17+ Cutaneous mets of breast carcinoma generally mammoglobin+, p63-, CK5-, CK14-, CK17- ER, PR, CK7, CK20, CEA, EGFR & GCDFP-15 stains not effective in differentiating between the two.
Some Highlights from the Evening:
And last but not least:
Thank you so much for attending and for reading this summary. We are so excited to plan yet another journal club for next month. Stay tuned and have fun at the upcoming #ASDP2019.
Kind regards!
DermpathJC